Korg Nautilus Editor 1.2
cyph
Korg Nautilus Editor 1.2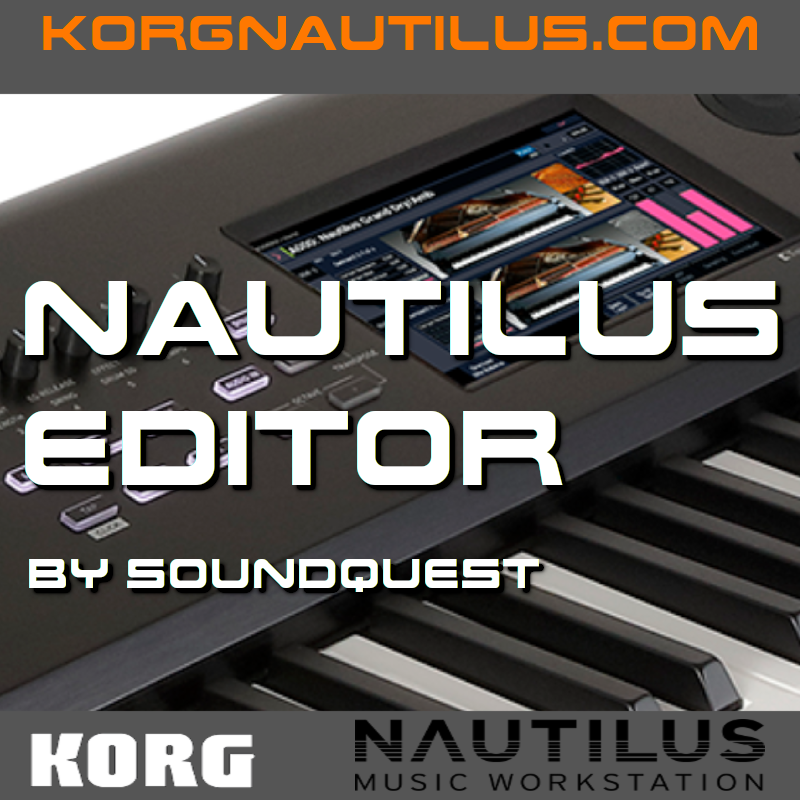 Who is soundquest ?
Sound Quest Inc. is a software development company that specializes in creating software applications for music production and audio editing. The company was founded in 1989 by Douglas Dexter, a software engineer and musician, and is based in Toronto, Canada.
Sound Quest is best known for its MIDIQuest software, which is a multi-instrument editor/librarian that allows users to edit and manage sounds on a wide range of MIDI instruments. The company also offers a range of other software applications for music production and audio editing, including Infinity Synth, which is a software synthesizer, and MIDI Tools, which is a set of utilities for working with MIDI data.
Over the years, Sound Quest has established itself as a trusted provider of software tools for musicians, audio engineers, and music producers around the world. Its products are used by professionals in a wide range of music genres, from electronic and pop music to classical and film scoring.
Soundquest Korg Nautilus Editor
Sound Quest Korg Nautilus Editor is a software application that allows users to edit, manage, and organize sounds on the Korg Nautilus workstation. The Korg Nautilus is a digital synthesizer and workstation that offers a wide range of features for music production and performance.
The editor software allows users to access and control all of the Nautilus' parameters and functions via a computer interface, which can be more efficient than using the hardware controls on the device itself. This can save time and streamline the sound creation and editing process.
The Sound Quest Korg Nautilus Editor also allows users to organize their sounds and create custom libraries for quick and easy access. It can also import and export sounds in various formats, making it easy to share and collaborate with other musicians and producers.
Overall, the Sound Quest Korg Nautilus Editor is a powerful tool for Nautilus users looking to streamline their workflow and take their sound creation and editing capabilities to the next level.
Download
Download Nautilus Editor 1.2 PC