Details
Korg Nautilus Combination Contest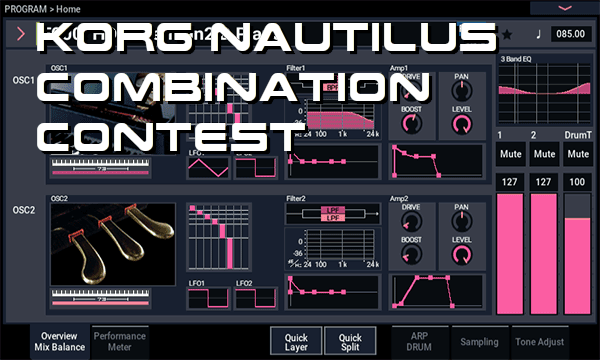 Author : KorgNautilus.com
Welcome to the Korg Nautilus sound contest! This is an exciting opportunity for musicians and sound enthusiasts to showcase their creativity and programming skills using only the factory sounds of the Korg Nautilus workstation.
In this contest, participants will be challenged to create their own unique combination of sounds using only the factory presets of the Korg Nautilus.
This means that you won't be able to use any custom sounds or samples - you'll have to rely solely on the built-in sounds and effects to create your masterpiece.
We encourage you to get as creative and experimental as possible, using the Nautilus' powerful synthesis and sequencing capabilities to create something truly unique and inspiring. Whether you're into electronic music, rock, jazz, or anything in between, this contest is your chance to showcase your skills and push the boundaries of what's possible with the Korg Nautilus.
So what are you waiting for? Get your Nautilus fired up and start programming your own amazing combination of sounds today!
How to join the contest ?
1. Make your combination on the Nautilus, I repeat : only using factory program patches
2. Save your PCG file : Only the bank here you store the Combination : bank C is preferable.
3. Send us the PCG : mail : This email address is being protected from spambots. You need JavaScript enabled to view it. or join our group on facebook and share the file there !
Any Dead line / limitations ?
On 19th of April 2023 : the contest will be automatically closed. (We may close it sooner depending on your participation)
Number of participation by person is unlimited
Votes
The global Combination pack will be shared here and on facebook ! It will, of course, be totally free !
Good luck to all !!!
Cyph / KorgNautilus.com
Details
Duduk Samples Pack for Korg Nautilus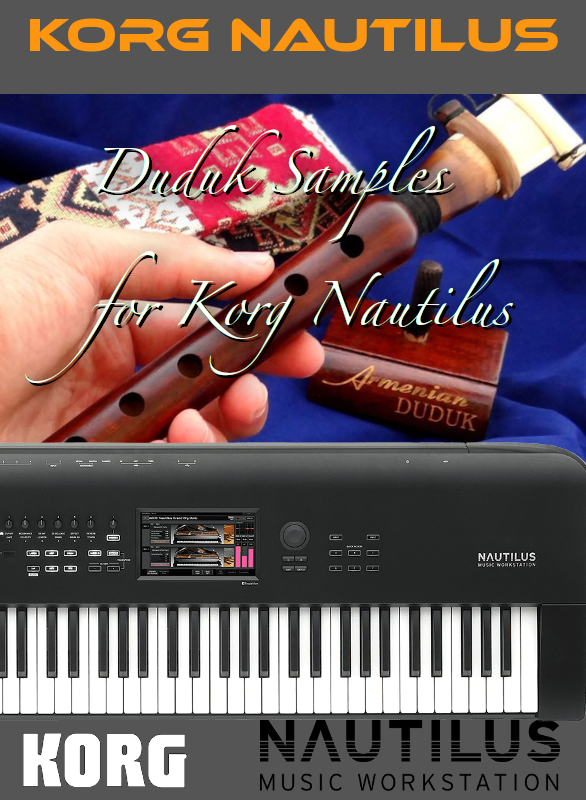 Author : SynthKeyWizard
A duduk is a traditional woodwind instrument from Armenia. It is made of apricot wood and consists of a conical body with eight finger holes and a single reed made of cane. The duduk is known for its hauntingly beautiful sound and is often used in Armenian and Middle Eastern music, as well as in film scores.
The duduk has a long history and is believed to have originated in Armenia over 1,500 years ago. It was traditionally played by shepherds in the mountains and was later adopted by Armenian court musicians. Today, the duduk is considered a symbol of Armenian culture and is recognized as a UNESCO Intangible Cultural Heritage of Humanity. It has also gained popularity around the world and is played by musicians in many different genres.
SynthKeyWizard (Dmitry) brings us so good samples that we are obliged to share them on the Nautilus !
Well done Dmitry !
Thanks!
Content
Duduk             Program      P000

Demonstrations
Download
Details
Luiz Oliveira's Progressive Leads Pack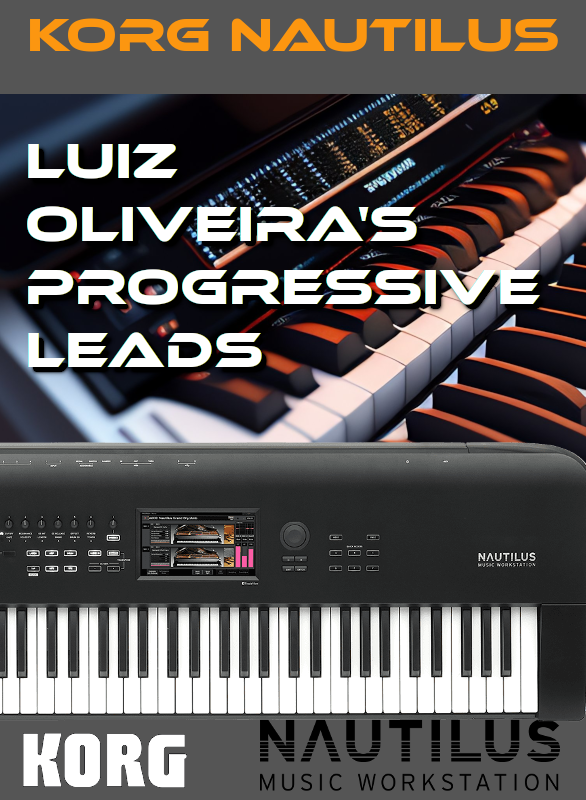 Author : Luiz Oliveira converted for Nautilus by korgnautilus.com
Hey Luiz,
thanks for your job on the Korg Krome !
Your sounds are now available on Korg Nautilus !
Programs are all here, but only 4 combinations because I do not have an automated process to do them :But as the combination are based on a mix of identical programs, you can easily make your own leads...it is like a construction kit with basic programs and combination with them at different volume !
Enjoy !
Content
Program Bank P
Clav PIG                 Program      P000         11               0
Lead PROG <JR>           Program      P001         11               0
Pig Lead                 Program      P002         11               0
Separate Ways SYNT       Program      P003         11               0
JR Leader                Program      P004         11               0
Like Pad                 Program      P005         11               0
Rock It LEAD <vox>       Program      P006         11               0
Violin Concert           Program      P007         4                0
Solo Guitar HEAVY        Program      P008         8                1
Oboe LEAD                Program      P113         11               0
Sine LEAD                Program      P114         11               0
Flute LEAD               Program      P115         11               0
EnglishHorn Lead         Program      P116         11               0
Guitar Lead              Program      P117         11               0
Clarinete LEAD           Program      P118         11               0
PULSE                    Program      P119         11               0
SQUARE                   Program      P120         11               0
SAW                      Program      P121         11               0
Snarling Main            Program      P122         11               0
Snarling efx             Program      P123         11               0
Lead Main to COMBI       Program      P124         11               0
Pulse Sub Wave to COMBI  Program      P125         11               0
Saw Sub Wave to COMBI    Program      P126         11               0
Triangle Sub Wave o COMB Program      P127         11               0
Combinations Bank C
Pig Lead LovLok          Combi        C000         17               0
JR Leads                 Combi        C001         17               0
Jordan Rudess Leads      Combi        C002         17               0
Snarling Pig             Combi        C003         17               0
Liquid Lead              Combi        C004         17               0
Demonstration
Make one and share with us !
We have no demonstration but Luiz made some progressive Rock titles ! Check it ! Buy it !
Download
Details
Korg MS20 Mini Drums Soundbook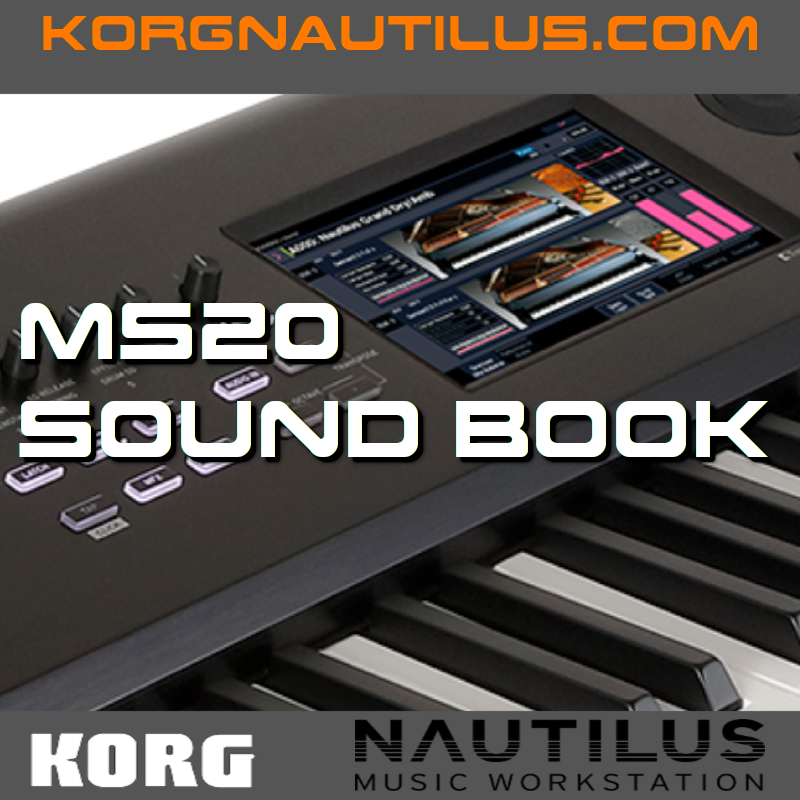 Author Matt Urmenyi

The MS-20 mini synth is a monophonic analog synthesizer developed by Korg. It is a smaller version of the original MS-20 synthesizer, which was first released in 1978. The MS-20 mini was released in 2013 and has since become popular among electronic musicians and producers.
The MS-20 mini features two voltage-controlled oscillators (VCOs), a voltage-controlled filter (VCF), two envelope generators, and a voltage-controlled amplifier (VCA). It also includes a patch panel, which allows for complex sound routing and modulation possibilities.
The MS-20 mini is known for its distinctive sound, which can range from fat basses and aggressive leads to complex evolving textures. It has been used by many musicians in various genres, including electronic, rock, and experimental music. Its compact size and affordable price make it an accessible option for both beginners and professionals.
Matt Urmenyi made a cool book on how to implement MS20 Drums...So take it, implement it and share your PCG !!!
For the moment, enjoy tweaking !!!
Details
Dance 80s and 90s sound pack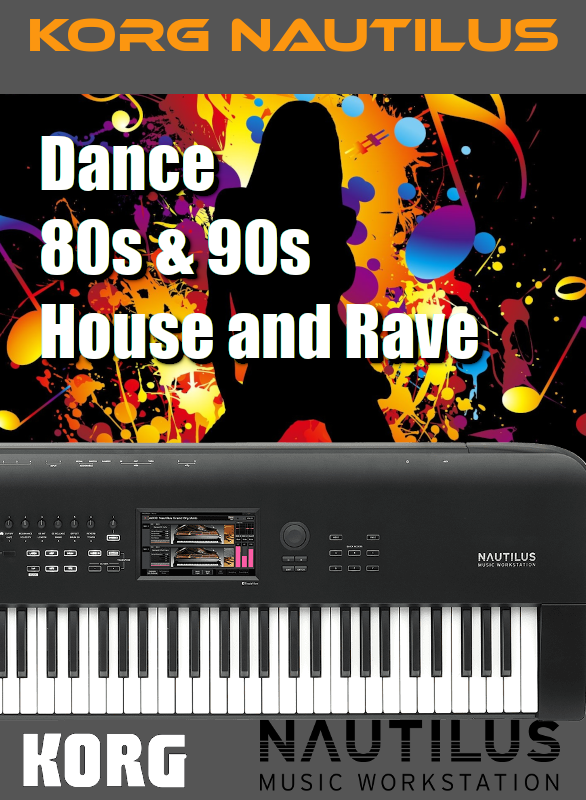 Author : StephenUk
StephenUk has created an 80's and 90's dance set for the Korg Kronos. Here is the conversion for Korg Nautilus.

Lots of rave and classic house samples, loops, vocals, rave, electro stabs and some classic 80's drum machines i.e Linn Drums, Linn LM1, Oberheim DMX Roland TR-909, TR707 etc. A total of 128 presets.

The Linn Drums, Linn LM-1 and Oberheim DMX drum kits are not samples of the original drums machines but are the actual raw sound data extracted from the original eeprom images because I wanted them to sound as original to their respected machines as possible.

Make sure you back up your programs first as this set will overwrite : P bank.

Make sure you back up your PCG drum kits also : H&I Bank

A minimum of 200 mb of sample ram is required to load this set.

Enjoy !!!
Ps: SNG were not converted because some use Kronos default patches.
Content
BIZARRE INC              Program      P000         17               0
HOUSE VOX 1              Program      P001         17               0
RAVE STAB 1              Program      P002         17               0
RAVE STAB 2              Program      P003         17               0
RAVE STAB 3              Program      P004         17               0
RAVE STAB 4              Program      P005         17               0
CHORDS 1                 Program      P006         17               0
CHORDS 2                 Program      P007         17               0
ELECTRO 1                Program      P008         17               0
ELECTRO 2                Program      P009         17               0
ELECTRO 3                Program      P010         17               0
ELECTRO 4                Program      P011         17               0
CHORDS 3                 Program      P012         17               0
CHORDS 4                 Program      P013         17               0
CHORDS 5                 Program      P014         17               0
CHORDS 6                 Program      P015         17               0
CHORDS 7                 Program      P016         17               0
CHORDS 8                 Program      P017         17               0
CHORDS 9                 Program      P018         17               0
CHORDS 10                Program      P019         17               0
CHORDS 11                Program      P020         17               0
CHORDS 12                Program      P021         17               0
CHORDS 13                Program      P022         17               0
CHORDS 14                Program      P023         17               0
CHORDS 15                Program      P024         17               0
ELECTRO BLIP             Program      P025         17               0
EXCEEDER                 Program      P026         17               0
BEAT 1 123BPM            Program      P027         17               0
BEAT 2 128BPM            Program      P028         17               0
BEAT 3 132BPM            Program      P029         17               0
BEAT 4 123BPM            Program      P030         17               0
BEAT 5 121BPM            Program      P031         17               0
BEAT 6 126BPM            Program      P032         17               0
BEAT 7 126BPM            Program      P033         17               0
BEAT 8 128BPM            Program      P034         17               0
BEAT 9 128BPM            Program      P035         17               0
BASS 1                   Program      P036         17               0
BASS 2                   Program      P037         17               0
BASS 3                   Program      P038         17               0
BASS 4                   Program      P039         17               0
BASS 5                   Program      P040         17               0
BASS 6                   Program      P041         17               0
BASS 7                   Program      P042         17               0
BASS 8                   Program      P043         17               0
BASS 9                   Program      P044         17               0
BASS 10                  Program      P045         17               0
BASS 11                  Program      P046         17               0
BASS 12                  Program      P047         17               0
BASS 13                  Program      P048         17               0
BASS 14                  Program      P049         17               0
HOUSE 1 125BPM           Program      P050         17               0
HOUSE VOX 2              Program      P051         17               0
HOUSE 2 128BPM           Program      P052         17               0
HOUSE 3 128BPM           Program      P053         17               0
HOUSE 4 128BPM           Program      P054         17               0
ELECTRO BEAT 128BPM      Program      P055         17               0
TOPS 128BPM              Program      P056         17               0
POLICE                   Program      P057         17               0
3 MINUTE WARNING         Program      P058         17               0
CLASSIC R&B              Program      P059         17               0
IN THA 90s 130BPM        Program      P060         17               0
FANTAZIA 130BPM          Program      P061         17               0
CHARLIE 130BPM           Program      P062         17               0
AMEN 160BPM              Program      P063         17               0
BREAK 1 160BPM           Program      P064         17               0
BREAK 2 130BPM           Program      P065         17               0
BREAK 3 160BPM           Program      P066         17               0
BREAK 4 160BPM           Program      P067         17               0
BREAK 5 160BPM           Program      P068         17               0
BREAK 6 150BPM           Program      P069         17               0
BREAK 7 150BPM           Program      P070         17               0
BREAK 8 160BPM           Program      P071         17               0
BREAK 9 160BPM           Program      P072         17               0
BREAK 10 160BPM          Program      P073         17               0
BREAK 11 130BPM          Program      P074         17               0
BREAK 12 150BPM          Program      P075         17               0
BREAK 13 150BPM          Program      P076         17               0
BREAK 14 150BPM          Program      P077         17               0
BREAK 15 150BPM          Program      P078         17               0
BREAK 16 150BPM          Program      P079         17               0
BREAK 17 150BPM          Program      P080         17               0
BREAK 18 130BPM          Program      P081         17               0
BREAK FILL               Program      P082         17               0
HOOVER 1                 Program      P083         17               0
HOOVER 2                 Program      P084         17               0
RAVE ORGAN               Program      P085         17               0
RAVE CHORD 1             Program      P086         17               0
RAVE CHORD 2             Program      P087         17               0
RAVE CHORD 3             Program      P088         17               0
RAVE CHORD 4             Program      P089         17               0
SYNTH BASS 1             Program      P090         17               0
SYNTH BASS 2             Program      P091         17               0
ELECTRO 5                Program      P092         17               0
90s TASTIC               Program      P093         17               0
WAREHOUSE STAB           Program      P094         17               0
SYNTH BASS 3             Program      P095         17               0
SYNTH BASS 4             Program      P096         17               0
ELECTRO 6                Program      P097         17               0
SYNTH BASS 5             Program      P098         17               0
ALEX PARTY               Program      P099         17               0
ELECTRO 7                Program      P100         17               0
SYNTH BASS 6             Program      P101         17               0
SYNTH BASS 7             Program      P102         17               0
SYNTH BASS 8             Program      P103         17               0
SYNTH BASS 9             Program      P104         17               0
SYNTH BASS 10            Program      P105         17               0
SYNTH BASS 11            Program      P106         17               0
SYNTH BASS 12            Program      P107         17               0
REZURRECTION             Program      P108         17               0
SWING YA BAG             Program      P109         17               0
WHITE DOVE               Program      P110         17               0
HELTERSKELTER            Program      P111         17               0
BACK 2 HOUSE             Program      P112         17               0
ELECTRO 8                Program      P113         17               0
DUBSTEP BASS 1 XY VC     Program      P114         17               0
DUBSTEP BASS 2 XY VC     Program      P115         17               0
DUBSTEP BASS 3 XY VC     Program      P116         17               0
BIG TRANCE ON BIG PADS   Program      P117         17               0
LINN DRUM                Program      P118         17               0
LINN LM-1                Program      P119         17               0
OBERHEIM DMX             Program      P120         17               0
ROLAND TR-707 & 727      Program      P121         17               0
ROLAND TR-626            Program      P122         17               0
EMU DRUMULATOR           Program      P123         17               0
CASIO MT800 & MT100      Program      P124         17               0
ROLAND TR-909            Program      P125         17               0
LINN DRUM(REVERB)        Program      P126         17               0
LINN LM-1(REVERB)        Program      P127         17               0
LINN DRUM                DrumKit      H000
LINN LM1                 DrumKit      H001
TR707                    DrumKit      H002
TR626                    DrumKit      H003
DRUMULATOR               DrumKit      H004
MT800                    DrumKit      H005
TR909                    DrumKit      H006
EKO RITMO                DrumKit      H007
DDD1                     DrumKit      H008
DDM110                   DrumKit      H009
SEQENTIAL CIRCUITS       DrumKit      H010
DD10                     DrumKit      H011
DMX                      DrumKit      H012
DD8                      DrumKit      H013
RZ1                      DrumKit      H014
KPR77                    DrumKit      H015
TR505                    DrumKit      I001
TR606                    DrumKit      I002
RPM40                    DrumKit      I003
RX21                     DrumKit      I004
ELECTRO KIT              DrumKit      I005
LINN LM1 REV             DrumKit      I006
ALESIS HR16              DrumKit      I007
Demonstrations
Download