PhattBuzz Free SoundPack for Korg Nautilus
cyph
PhattBuzz Free SoundPack for Korg Nautilus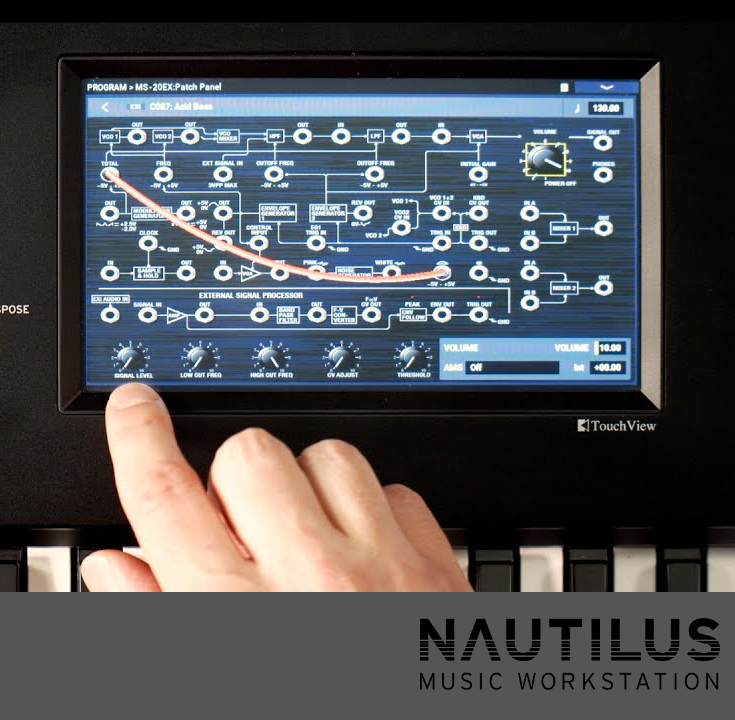 Author : PhattBuzz (Korgforums)
Hello Korg Nautilus Fan !
Here is the last free pack I've found for your Korg Nautilus !
It's from PhattBuzz from korgforums...14 free patches with ESXi, MS20, polysix engines used...
Enjoy!
Description
000 - EctoPlasm BKR (STR-1) Harpsichord from the beyond. Harmonics get downright creepy the longer you hold notes/chords as they bend in different directions
001 Love Is Blue BKR (STR-1) Another harpsichord type program. Knob 8 adds early reflections.
002 Electric Company BKR (AL-1) Heavy Synth with random S&H applied to the filter. Good for single note background comping. Turn on drum track for a standard rock beat through a flanger. Knob 8 controls amount of reverse delay.
003 Phatt Synth Lead BKR (MS-20) Heavy monophonic synth. JS-Y increases warble. JS+Y opens filter.
004 DooDah Synth BKR (AL-1) A wet synth. JS-Y for filter modulation. JS+Y to open filter. Use ribbon for filter too. After touch increases and speeds up flanger.
005 Monsta Synth BKR (AL-1) Heavy monophonic synth with light portamento. Knob 7 adds delay. Knob 8 adds reverb.
006 Fat Cat City BKR (AL-1) Another heavy monophonic synth with portamento. Knob 8 adds reverb.
007 Elmer Fudd BKR (Poly6 x2) Wet Synth. Use JS-Y for tape echo.
008 Steam Synth BKR (AL-1 x2) Very short notes using two noise generators and a bit of delay. SW1 toggles octave.
009 Tweedle Dee BKR (AL-1) Synthy clavinet. Use VJS+X to add tremolo and VJS+Y to speed up tremolo.
010 Wet AL1 BKR (AL-1) Fast attack; harder you hit the keys, the more resonance is added.
011 Wet Dragon BKR (MS-20) Fat and dripping with resonance monophonic synth.
012 Telstar Lead BKR (MS-20) My take on the lead for Telstar
013 Rez! BKR (MS-20) Uses self resonating filter. Control with joystick.
Demonstration
None, ready to do it ?
Download